INTRODUCTION
PRACTICE AREAS: Corporate & Business Transactions, Real Estate & Construction
Mr. Siegfried is a member of the Corporate and Business Transactions Department and focuses his practice on entity formation and governance, mergers and acquisitions, contract matters, and employment matters, and counseling closely-held businesses on all aspects of corporate and business law. He also advises clients on a wide variety of real estate matters.
Mr. Siegfried graduated magna cum laude from Cleveland-Marshall College of Law in 2022. Prior to attending law school, he graduated cum laude from The Ohio State University in 2019 with a Bachelor of Arts Degree in Political Science.
Contact:
p: 440.695.8077 
f: 440.695.8098
JSiegfried@WickensLaw.com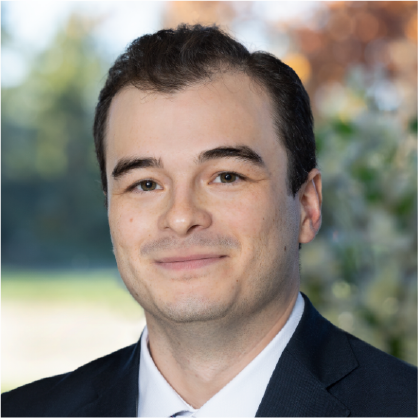 LEARN MORE ABOUT JAKOB
Tell us a little bit about your history and how you came to be at Wickens Herzer Panza.
I knew early on in law school that I wanted to practice business law. As the time for graduation came, I was looking for a firm with a great reputation that would give me the opportunity to gain hands on experience with advising small to medium sized businesses early in my career. I saw a unique opportunity at Wickens and it turned out to be a perfect fit.
Why did you begin practicing this area of law in the first place?
Throughout my college and law school career, I came to appreciate everything that goes into creating a successful business. One of my mentors started his own successful small business on the west side of Cleveland. Through countless hours and days of hard work, he was able to grow that business nationwide with locations in almost every state. I find people like that to be inspirational and I would like to help others, through my knowledge of the law, to achieve that same goal of building and sustaining a successful business.
What is your passion? What are you passionate about? What makes you tick?
I love sports and how it can unite people of all backgrounds. I am a die-hard Cleveland sports and Ohio State fan. When I am not working, I am usually watching any of my teams play. I love going to games in person, especially the ballpark during the summer. Besides that, I enjoy staying active, whether that be snowboarding, playing basketball, softball, pickle ball, or attempting to play golf (emphasis on attempting).
What one quote resonates with you, either personally or professionally (or both)?
"Yesterday's home runs don't win today's games."
– Babe Ruth
Education
2022 – Cleveland-Marshall College of Law (J.D.; magna cum laude)
2019 – The Ohio State University (B.A., Political Science; cum laude)
Professional & Civic Affiliations
Ohio State Bar Association
Cleveland Metropolitan Bar Association
Recognitions & Awards
Managing Editor, Cleveland State Law Review
Managing Editor of the Year (2021-2022), Cleveland State Law Review
CALI Excellence for the Future Award (Secured Transactions, Transition to Practice)
Publications & Speaking Engagements
Publications & Articles
Student Note, The Minor Leagues Strike Out: The Legal Issues Arising from Leaving Certain Minor League Teams on the Bench in Major League Baseball's Revamped Minor League System, 70 Clev. St. L. Rev. Et Cetera 25 (2022)
SEND US A MESSAGE
Our team of attorneys and paralegals understands what it means to be a trusted advisor. Sure, we provide legal counsel but we do so much more. We provide a business partnership, support, advice and protection to our clients who become our family. Get to know us better and decide for yourself.