INTRODUCTION
PRACTICE AREA: Litigation
Ms. Massad is a member of the Firm's Litigation Department and focuses her practice on all aspects of business litigation, including breach of fiduciary duty, business torts, employment matters and other complex commercial matters.
Ms. Massad graduated cum laude from Cleveland-Marshall College of Law in 2023. Prior to attending law school, she graduated from Baldwin Wallace University in 2019 with a Bachelor of Arts Degree in Political Science.
Contact:
p: 440.695.8069
f: 440.695.8098
BMassad@WickensLaw.com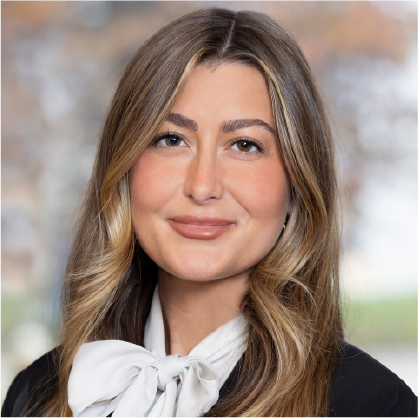 LEARN MORE ABOUT BESS
Why did you begin practicing this area of law in the first place?
My favorite courses in law school were my business law courses. Specifically, commercial sales, contracts and corporations. It made sense for me to pursue a practice in areas that excite me.  The ability to help a client navigate a remarkably tricky time, while advocating for their best interest, is a responsibility that I take very seriously.
What is your passion? What are you passionate about? What makes you tick?
Something I really enjoy outside of practicing law is interior design and decoration. I really love exploring the creativity it takes to transform a blank slate into your personal oasis. I find that surprisingly, practicing law and interior design have lots in common. Notably, taking an idea or a problem and creating a favorable, workable solution for the client.
What one quote resonates with you, either personally or professionally (or both)?
"Take your victories, whatever they may be, cherish them, use them, but don't settle for them."
- Mia Hamm
Education
2023 – Cleveland-Marshall College of Law (J.D.; cum laude)
2019 – Baldwin Wallace University (B.A., Political Science)
Professional & Civic Affiliations
Lorain County Chamber of Commerce (Member)
Magnificat High School Blue Streak Barristers (Member)
Recognitions & Awards
Business Editor, Cleveland State Law Review
SEND US A MESSAGE
Our team of attorneys and paralegals understands what it means to be a trusted advisor. Sure, we provide legal counsel but we do so much more. We provide a business partnership, support, advice and protection to our clients who become our family. Get to know us better and decide for yourself.